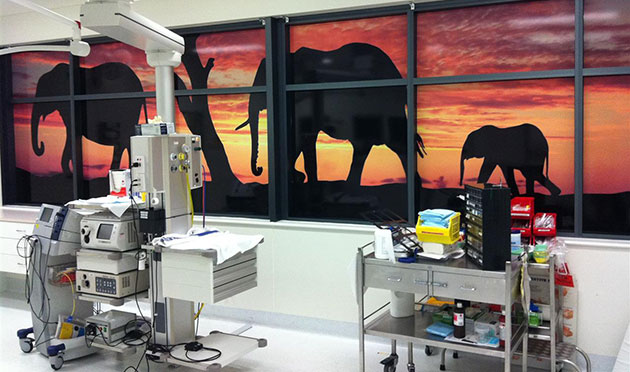 Decorative & Designed Films
Transform Your Home or Business with Stunning Window Designs
Decorative window films offer so much opportunity. You can integrate corporate branding into your office space, display inspiring images, create ambience and mood, show off your visual prowess to provide decoration and privacy.
All styles, colours and patterns
Decorative glass and window films offer the ultimate in privacy and beauty. You can choose from etched, cut, sandblasted, textured and other decorative glass patterns, or you can supply a specific image of your choice and we can have it printed and installed on your windows or glass.
Decorative window and glass films are ideal for:
Conference rooms
Lobbies
Retail environments
Residential settings
Private offices
Exterior windows
Partitions
Verandas
Why Choose Us?
Over 20 years' experience
Free quotes are available
Just supply us with your image – we'll organise to have it printed
You can have any image or pattern you want – you're only limited by your imagination!
As long as you can supply Extreme Glass Tinting with a high definition image or a vectorised visual file, we can have it professionally printed on high-quality film and installed as requested.
What Makes 3M Decorative Glass Finishes Better?
Aesthetics: Our decorative glass and window films transform plain glass, capturing the look of cut or texturised glass to an astonishing degree at a fraction of the price.
Flexible: Dusted & Frosted Crystal and Fasara™ Glass Finishes allow you to tailor the amount of privacy in a space. Dusted & Frosted Crystal films can be applied whole, computer cut to intricate patterns or printed to designs of your choosing.
Application: 3M expertise in adhesives ensures you of fast, accurate, beautiful and durable applications.
Materials: Constructed from quality, durable materials backed up with 3M Warranties ensures peace of mind.
For more information, download our brochures:
Colour Range – 50 Series | 3630 Series Translucent | 7725 Series Opaque
Fasara Glass Finishes – Decorative Glass Finishes | Style Guide
Download – Artwork Specifications
Be Inspired – Browse Our Gallery
Extreme Glass Tinting has performed countless decorative window and glass installations. View our previous work or call (07) 4775 5025 to learn more.